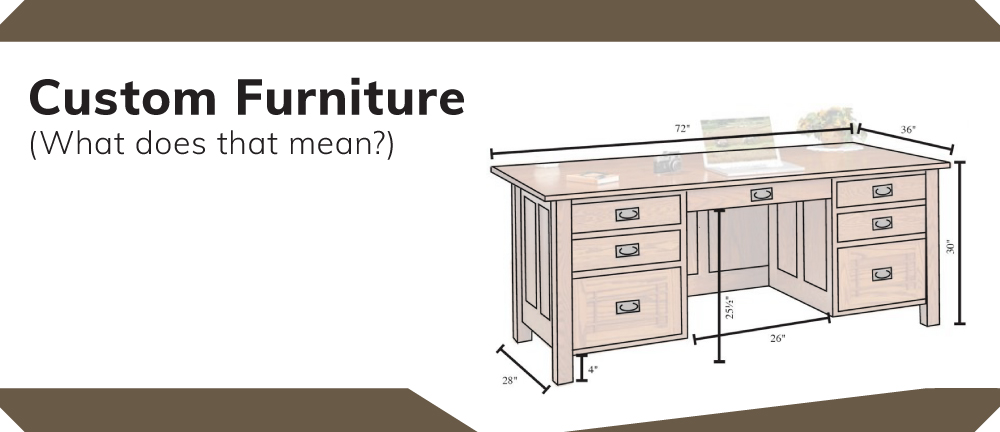 Custom Furniture: What Does that Mean?
Customized furniture is a step above the rest. Why?
Because it lets you find a piece of furniture in a style you like. Then it lets you select options for it to fit your décor and needs just right.
Custom furniture is a step above customized furniture and sits at the top above all the rest. Why?
Because it gives you the opportunity to contribute to a design and help create something that fits your vision exactly.
Both customized furniture and custom furniture put your needs first. Both offer options to fit your home. This is furniture made to fit your needs versus something from a big box store that you have to make fit.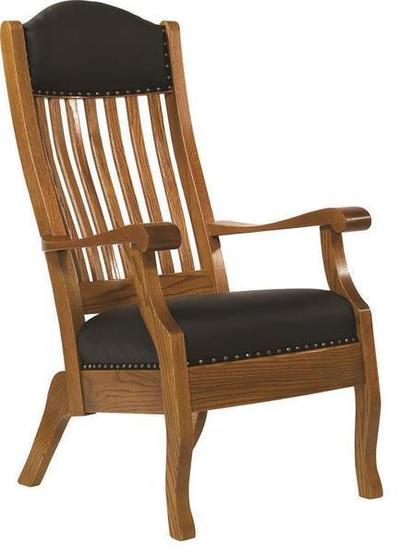 Let's take a look at what customized furniture and custom furniture are and what you can create with both of them.
Customized Furniture vs. Custom Furniture
What is Customized Furniture?
Customized furniture is a piece of furniture you select in a style you like. Options are offered for that piece of furniture that let you customize it for your home.
Customized options offer more than one way to do furniture. You won't find options in big box stores. They let you tweak an existing design the way you want it with what's available.
A Customized Furniture Example: Let's take the Amish Deluxe 20-Gun Cabinet.
The Deluxe is a solid wood gun cabinet with a 20 gun capacity, security locks, felt lined gun racks, drawer and cabinet storage, measuring 69" wide, 22" deep and 84" high.
How can you customize it to best fit your home? Here are the options offered:
Choice of wood type and finish
Choice of hardware
Option to add mirrored back or tongue and groove style back
Option to upgrade drawer slides to soft close
Option to upgrade to tempered glass
Option to upgrade to LED touch lighting
Choice of design type: Heirloom, Mission or Traditional Contemporary styles offering 3 different looks to pick from
So customizing this gun cabinet is like getting your ice cream and deciding what you're adding to make it yours. What flavor? Two scoops? Three? Sprinkles or chocolate sauce or both? Whip cream? Cherries? A waffle cone or sugar cone? You get the idea.
More Customized Furniture Options
Amish furniture immerses itself in the world of both customized and custom furniture. Amish made furniture is built by hand. It's a slow and steady process employing old woodworking techniques, and the result is out-of-this-world quality.
Customizations are the details and they're not small details either. Wood type and finish color can define the look of a piece. A walnut table will look completely different from an oak table.
Customizations can be offered on any piece of furniture. The list of customizations offered by DutchCrafters is too long to include here, but here are some examples.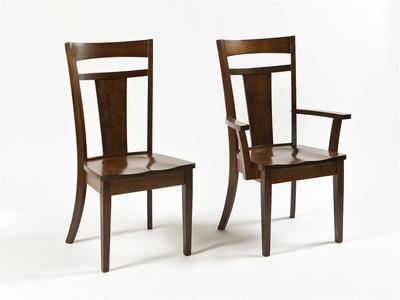 The Amish Livingston Dining Chair
Side or arm chair style
Available in 10 wood types
Offered in dozens of finish colors
Felt or nylon chair glides
Wood or upholstered seat
Choice of fabric or leather
Matte, standard or high-gloss varnish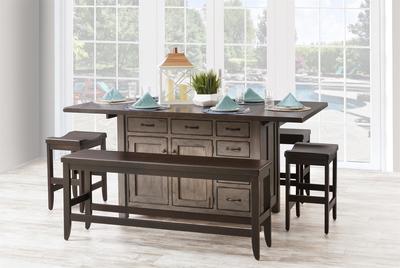 The Amish Ancient Multi-Storage Mission Kitchen Island
Offered in 8 wood types
Dozens of finish colors to pick from
Option to add standard or antiquated distressing
8 island top styles to choose from
Choice of 36″ or 42″ height
Choice of adjustable shelves, pullout shelves, or trash can pullout
Choice of hardware
Option to add ball castors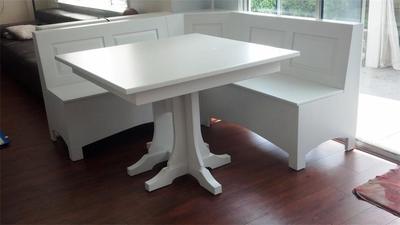 The Create Your Own Custom Corner Breakfast Nook
Choice of storage and trestle bench combination
Choice of table height and size
Square or rounded corner top
Choice of table edge
Choice of wood and finish
The Amish Made Racine Panel Bed
Choice of bed size
Choice of wood type
Choice of finish color
Choice of regular or low footboard
Choice of varnish
The Amish Stonespire Executive Desk
Option to add custom grommets
Choice of wood
Choice of finish color
Choice of hardwood top, hardwood top with glass cover, 3-piece leather top, or granite top
Option to add a distressed finish
Option to add soft close drawer slides
Option to add file locks
Choice of pencil or keyboard drawer
Option to add power station with choice of wireless charging grommet, desktop station with 2 USB and 2 electric outlets, or a pop up station with 2 USB and 2 electric outlets
What is Custom Furniture?
Custom furniture is a piece of furniture that's not already available, whose design you're a part of creating. You bring the idea you envision and the piece of furniture is built for you. It does not already exist.
A Custom Furniture Example: Guitar Cabinet
John M. from IL on 2/27/2019
I was able to build my custom guitar cabinet at a fraction of what other places would have charged. I am thrilled at how you were able to take my vision and bring it to life. Thank you!
John M. had a vision for his guitar cabinet. He called in with the idea of customizing a gun cabinet and making it into a custom case for his guitars. He enlisted the help of a furniture specialist, a must for a piece of custom furniture.
Over the course of four months, John, Furniture Specialist Stacey Elkins, Product Manager Ryan Bergeron and the craftsmen at the woodshop collaborated together. Sketches were drawn, dimensions were adjusted, hardware was ordered and lots of questions were asked.
The result: John's custom guitar cabinet vision brought to life.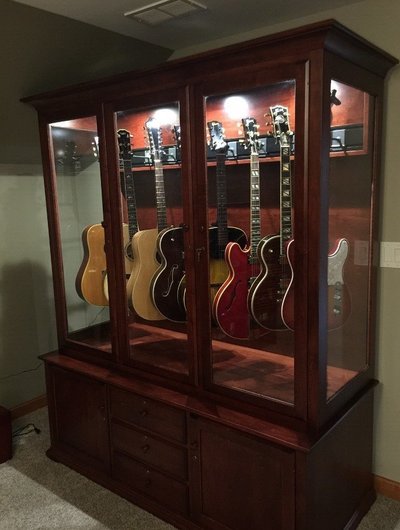 Below is a little peek into the process with information from Stacey Elkins, the furniture specialist who worked extensively with John to create his guitar cabinet.
"John directed me to a guitar case he had seen on another site so that I could figure out the mounting system we would need. I worked extensively with the product manager (who manages gun cabinets) to come up with sketches to include the details. These had to be approved by the customer and then we had to get pricing for them from the woodshop."
"John gave me details like how many guitars he wanted to display, the lengths of the guitars, and how he wanted the display to look. He asked us to modify the dimensions, but other than that he trusted us (and the builder) to come up with plans for how to get it done. There were very specific dimension requirements needed in order to fit the piece through his door for delivery as well. All of this involved detailed sketches of the outside and inside dimensions of the cabinet."
So creating a custom piece is like thinking about what kind of ice cream you want to create. What shape will it have? Will you eat it or drink it? Will it fit in a bowl or would a plate be better? The possibilities are yours to explore.
The Pros and Cons of Building Customized and Custom Furniture
Let's you create a size that's just the right fit.
Let's you create what you envision for your home.
Can be used to fill a large space or can provide maximum function needed in a small space.
Leads you straight to what you're looking for instead of spending time looking numerous places for something that's not out there.
You will own a one-of-a-kind piece.
There's added pride in owning a custom piece–others can tell the difference between custom and a big box store.
The quality materials will last.
Displays unique craftsmanship that you can rely on.
Quality contributes to heirloom—you'll be able to pass on this caliber of furniture to future generations.
Takes longer to build.
Costs more.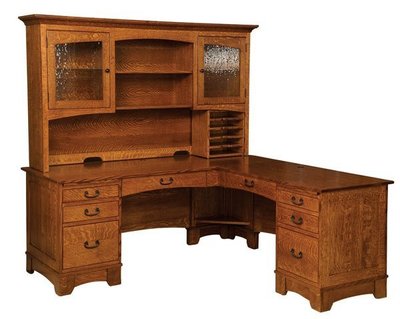 How Long Will I Be Waiting For Customized or Custom Furniture?
Customers looking for customized furniture quickly get familiar with the term "build time." There's an estimated build time for each Amish furniture item offered at DutchCrafters. It's the estimated time it will take to build your furniture. Extra time is added for shipping.
When we say build time, we're talking a number of weeks, or possibly months, depending on the size and intricacies of the options selected. Custom furniture will likely take longer than the build times listed, because sketches need to be drawn and approved and woodworkers need to take care building a piece that they have not built before.
While there's no way around the fact that customized and custom furniture have long build times, isn't it refreshing to know that while everyone else is getting an overnight piece that looks like everyone else's, you're quietly waiting for a piece that's unique, solid and won't have to be replaced?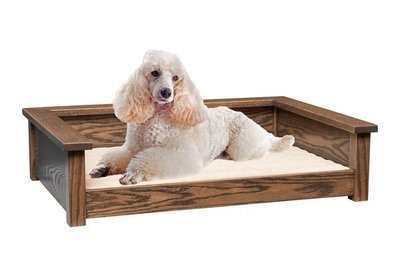 How Custom Furniture Makers Support The Slow Furniture Movement
Customized and custom furniture won't break down and get thrown away in a few years. It takes time to build. It's full of quality and uniqueness.
All these attributes make custom furniture an item at the heart of the Slow Furniture Movement. With custom you know you're getting furniture that's built well, that's made with quality materials and that's not rushed.
When you seek custom furniture, you're ready to wait and invest the time and money in something you can enjoy and that will look good for a long time, and that actually contributes to a healthier world in the long run.
Tips for Prepping for Your Furniture Purchase
Make a plan and share your ideas with the furniture specialist. Furniture specialists at DutchCrafters can help shed light when you're trying to decide on customizations. They know the right questions to ask to see if the furniture you envision is right, what kind of space it will work in, plus the added benefits of it that you may not be aware of. They can give the most accurate idea of how the furniture will fit in your home and the look the different woods and stains will exhibit to ensure a good match.
Consider furniture that you'll get the most use out of. When you're going custom, think about what room you'll use the furniture in. To benefit the most, consider going custom for pieces that go in popular rooms where it will get the most use.
Start with samples. Take your time with a piece of furniture you're investing money in. Samples are the best way to see elements of your new furniture in person. Our wood samples are a great way to determine what wood types you like. You can see the grain pattern and get an idea of what the wood looks like in different colors.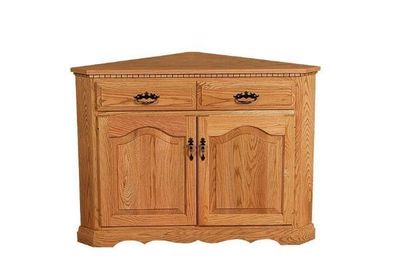 Will custom furniture cost more?
The direct answer is yes, and there's a chance it will cost a good deal more. But isn't it worth it?
Custom furniture can take a lot of time and come with a higher price tag, but the payoff is knowing you are getting exactly what you envisioned, the features you wanted and that your furniture is being made the right way to last.